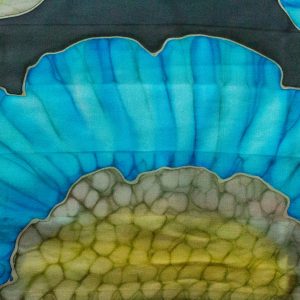 Modern Flowers Collection, Blue Sunflower, 12×60 Satin Chiffon Stripe
$120.00
Modern Flowers is an expansive collection. I have a flower garden every spring and summer. The flowers I grow often become drawings and color studies. These serve as year round inspiration for all manner of flowers, leaves, seed pods and twining stems on the scarves. Sometimes the flowers are realistic, more often they serve as graphic design elements. I am particularly attracted to layers of color and design and this series offers many opportunities to explore that complex kind of painting. Free shipping in the United States.
The blue and ocher sunflowers travel back and forth across the length of the scarf, contrasting high detail in the flower with a modern sense from the cropping of the bloom. Beautiful hung loose around the neck or twined so the sunflowers meet each other.
The scarf arrives with a gift bag and a note from the artist.
1 in stock
Additional information
| | |
| --- | --- |
| Weight | 6 lbs |
| Dimensions | 60 x 12 in |